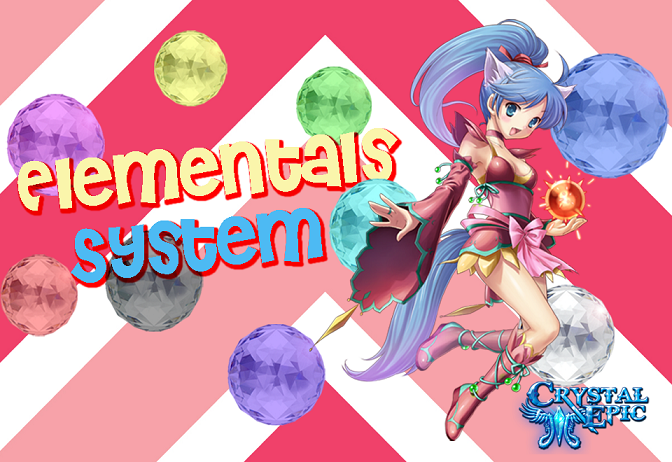 Event 1: Elementals Spirit
NEW SYSTEM - ELEMeNTALS !! System baru ini akan sangat menegangkan karena kalian harus mengalahkan monster" di setiap tahap nya, penjelasan secara garis besar :

Pada system
Elementals
ini di fokus kan untuk menaikan status karakter kalian, seperti ; Healing, Critical, Atk.speed dll. untuk dapat menaikan status tersebut kalian harus memiliki "
Elemental Spirit
" yang dapat kalian masukan pada ke 5 bagian slot seperti gambar di bawah ini :
Selengkap nya dapat kalian lihat pada bagian forum GUIDE :
link :
[
viewtopic.php?f=91&t=5388&p=26532#p26532
]
Note :
1. Setiap hari nya setiap karakter dapat memasuki "Graveyard" sebanyak 1x secara gratis & 10x dengan menggunakan "Tomb Insignia"
2. Setelah 10 menit spawn monster akan berhenti & Boss monster akan muncul
3. 1x Summon "Cerberus" membutuhkan 99 Crystal
4. Tomb Insignia dapat di temukan pada Fate Shop seharga 99 Crytsal.
Event 2: Bonfire
Duration : 26 Agustus - 2 September 2015
Untuk melengkapi kemeriahan new system Elementals kalian dapat menemukan obor pada Starpolis, di setiap jam berikut; 8:00, 10:00, 12:00, 14:00, 16:00, 18:00, 20:00, and 22:00.
Note :
1. Obor akan muncul selama 15 menit di setiap L1-L5
Event 3: Consume Gift
Duration : 26 Agustus - 2 September 2015
Setiap kalian yang melakukan pembelian menggunakan
Crystal
pada
Fate Shop
sesuai akumulasi yang tertera di bawah ini akan mendapat hadiah :
- 500 Crystal:Elusive Feather x2, Power Shard x5
- 2000 Crystal:Power Crystal x10, Shard of Fate x3
- 6000 Crystal :Transitory Bead x20, Blood of God x20
- 10000 Crystal:Super Mount Procreation Runes x15, Sealed Power x30
- 20000 Crystal:Black Dragon Coin x10, Super Mount Procreation Runes x20, Power Shard x10, Power Crystal x10, Sealed Power x60.
- 30000 Crystal: Black Dragon Coin x20,Super Mount Procreation Runes x30, Celestial Feather x30, Shard of Fate x20, Power Shard x15, Power Crystal x30, Sealed Power x90.
- 60000 Crystal: Black Dragon Coin x40, Super Mount Procreation Runes x60, Celestial Feather x60,Shard of Fate x40, Power Shard x30, Power Crystal x60, Sealed Power x180.
Note :
1. Setiap karakter hanya dapat menerima 1x.
2. Hadiah dapat di ambil di NPC Quartermaster.