Hallo Crystal Heroes!
Berikut adalah guide untuk melakukan "Direct Order".
1. Silahkan transfer jumlah uang sesuai dengan nominal voucher yang diinginkan ke rekening dibawah
(Please transfer the money according to the amount of voucher you want to buy into the bank account bellow)
:
Bank's Name: Bank Central Asia (BCA)
Bank's Account No: 8400037991
Account's Owner: PT. Haegoong Interactive
Branch: Rukan Artha Gading
Location: Jakarta - Indonesia
Nominal Cash Direct-Order:
- Rp 100.000
- Rp 300.000
- Rp 500.000
- Rp 1.000.000
- Rp 3.000.000
- Rp 5.000.000
- Rp 10.000.000
2. Untuk konfirmasi transfer, silahkan Login kedalam ID anda
(Please log-in into your account/ID)
3. Silahkan klik "Info Saya" yang ada diatas kanan layar
(Click "Info Saya" on the Top-right Screen)

4. Klik pada menu "Direct Order"
(Click on the Direct Order button)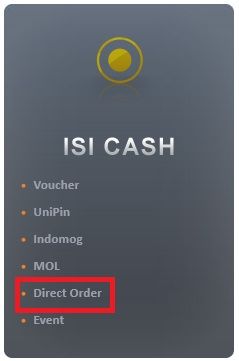 5. Ikuti instruksi pada gambar
(Follow the instruction in the picture)
.

6. Setelah konfirmasi diatas, klik Submit
(Click on the Submit button after you input the information above)
.
7. Silahkan tunggu, O-Cash anda sedang diproses (Please wait while the O-Cash is being process)
Note:
1. Transaksi bisa dilakukan dari hari Senin - Minggu.
(Transaction only will be process during weekdays (Monday-Sunday) from 09:00 - 21:00 (Indonesian time / +7 GMT)).

2. Pastikan info yang anda isi diatas adalah benar, info palsu dapat mengakibatkan transaksi tidak bisa diproses
(Please insert real information on the form above, we can't process fake information).

3. Jika ada masalah, silahkan hubungi ogcash@orangegame.co.id
(If there's any problem or need assistance, contact ogcash@orangegame.co.id).